Google services
Analytics, AdWords, SEO, etc.
Google Analytics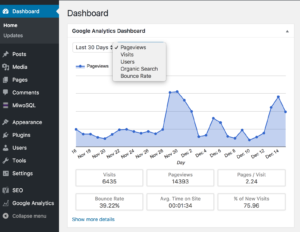 Google Analytics provides you with an overview which online marketing activities are cost-effective and how your visitors use your site. With the help of these data/info you can improve your website and attract more relevant traffic. This results ultimately in more conversion and income.
We can give you regular update reports of the data that are available on Google Analytics. First of all we determine the most important KPI's (Key Performance Indicators). After that you will receive  on a regular basis e.g. monthly or weekly, a report of the performance of your website. If needed we also give advice how to implement the necessary improvements of your website.
Google AdWords
SEA – search engine advertising, is a form of internet marketing that is frequently used by companies. It is very suitable if you want to have optimal findability of your website. The advertisements will be placed on top and to the right of the search results in Google.
To set up a campaign is one thing, but to make it a success is another thing.
We can help you with successful online advertising! We at Media Point have the necessary know how to do this. We possess the certificate Google Adwords Qualified Individual.
Pro's of Adwords
You pay per click, so only for a real visitor on your website or in your webshop

You are easily findable on the words that best suit your products and services

Results are directly measurable
Search engine advertising is very flexible and result oriented and is a great addition to our search engine optimization. We can assist you with creating an adwords campaign. In addition to that we monitor the campaign and carry out optimizations where needed. You will receive a periodic report about the performance of your campaign(s) and search words.
Do you want to advertise on Google?
We can help you immediately.