Integrated cards
Cards in letterhead
A letter and card only in one. This way you can print the letter yourself and at the same time personalize the card in your own laser printer. The card is in credit card format and finished with a laser-compatible foil.  The recipient can easily remove the card from the stationery itself. The card can be positioned anywhere on the stationery, but underneath it is most common down on the right.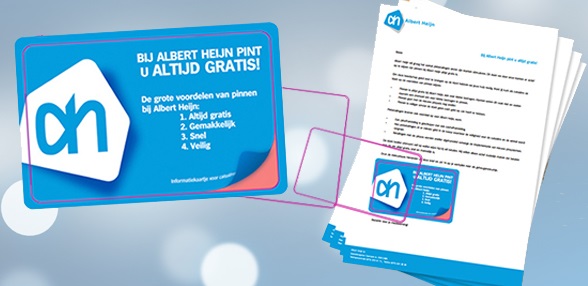 Different types cards in stationery
In addition to the standard integrated pass, there are also other types of cards in stationery:
Press card: the card can be pressed out of the letter so that there is a' hole' in the letter.

Self-adhesive integrated pass: pull the pass out of the letter and then glue the front and back of the pass together. This is especially useful when the pass is personalised on both sides.
Applications of integrated cards
With the integrated card, many applications are possible. Temporary (exhibition) badges for printing on location, membership cards or a service card with combined labels or stickers.